I have good news and bad news, everybody…
First the bad:
In the next few months, the 24LiesASecond website as you've come to know it will ceize to exist.
Now the good:
24LiesASecond will merge with The House Next Door.
Yes, you've read that right.
So what's going on? Let me explain…
When Jim Moran and me launched 24LiesASecond in 2004, we had no idea what a flight the blogosphere would take. We wanted to provide a platform for the kind of provocative underdog film criticism we couldn't find anywhere else and made a vow to aim high and shoot low. Hence, our specialty became the carefully edited long-form essay.
Fast-forward to four years later… Thanks to wonderful contributions by Mike Crowley, Giuseppe Puccio, Dennis Cozzalio, David Greven, Bob Cumbow and Will Lasky, the quality of the 24Lies articles has endured, but the quantity of our output leaves a lot to be desired. Despite a modest cult following (that would be you, loyal reader) and a handful of eminent supporters (Jim Emerson, Anne Thompson, Matt Zoller Seitz and – dare I say it? – Brian De Palma), our website has remained something of a hidden gem.
Most of you will know that 24Lies member Keith Uhlich has recently took over the editorial reigns at The House Next Door–a very popular film blog founded by the great critic/filmmaker Matt Zoller Seitz. After drawing 30 episodes of Directorama under Keith's editorial guidance, the idea arised for 24Lies and The House to team up. In many ways, The House Next Door has succeeded where 24Lies has failed: By offering new content to their visitors each and every day, Keith and editor emeritus Seitz have built up an impressive readership. Simply put: If quality online film criticism is your thing, Next Door is where it's at.
What will this merge amount to?
The 24Lies archive will find a new home at The House Next Door, where it will be introduced to a much wider audience. All the articles will be republished according to a weekly schedule, one by one, labeled under their own 24LiesASecond Essays tag. Future articles by the 24Lies authors will also be published on The House Next Door.
I'm sad to say that this means the 24Lies forum will be discontinued. This, of course, was an especially tough decision to make. We've had many memorable discussions on our message board over the past few years and I've always enjoyed reading every member's thoughts and opinions tremendously. For this reason, I've contacted Geoff Beran of De Palma à  la Mod and he's looking into the possibilities to attach comment sections to his posts, so that we can keep in touch with eachother and De Palma's work. Let's hope Geoff can technically figure out a way to do this, because it would be the ideal solution to keep our little community together.
24LiesASecond's transition to The House Next Door will happen gradually. Members will be able to post on the forum for another two weeks or so. After that, a locked version will stay online for a few weeks to ensure that everyone has enough time to copy and save their favorite threads. The 24Lies essays will be republished on The House later this Summer. Until then, you can still find them here.
That's all folks. I hope you understand. Drop a comment and let me know what you think. Thanks for all your support and see you all at The House Next Door!
All the best,
Peet Gelderblom
Founding editor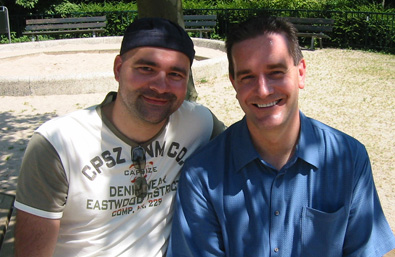 Editor-in-chief Jim Moran (right) with yours truly