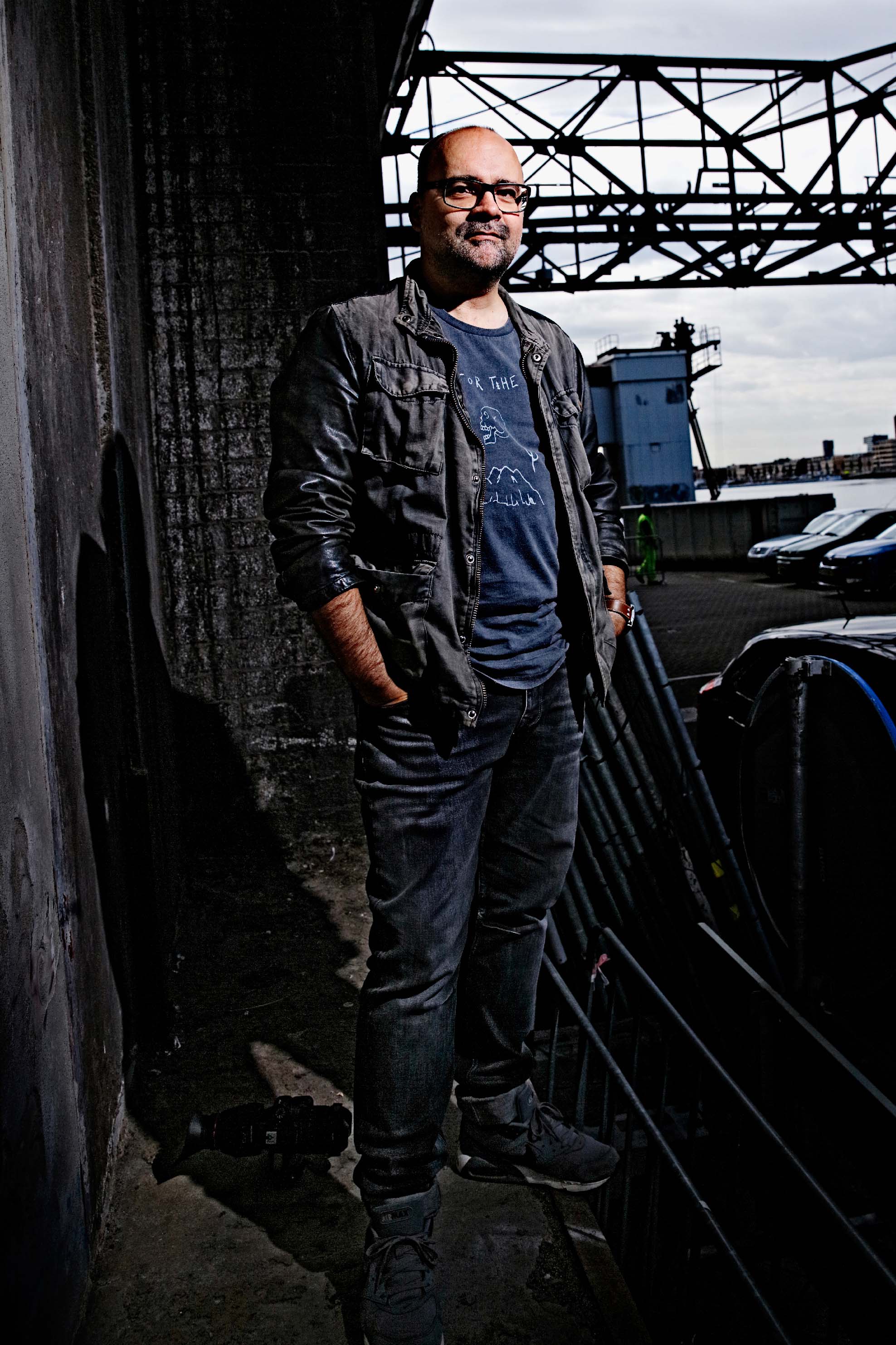 Clients:
Blazhoffski • Wenneker • Skyhigh TV • Sallie Gardner • Dahl TV • Zcene Moving Media • IDTV • Stepping Stone • TIN CAN • Lukkien • BNNVARA • AVROTROS • Fremantle • RTL • SBS • CCCP • IQ-Media • PPCRN • UHU Productions • Witte Geit • Maeckers • Netwerk6 • In Case of Fire • Endemol • Tangerine Tree • Eye Filmmuseum
Feature film: WHEN FOREVER DIES
(Winner Audience Award Bogotá Experimental Film Festival
Buma Award Nominee + Official Selection Il Cinema Ritrovato, Thessaloniki, Film Fest Ghent, Netherlands Film Festival, Film by the Sea, Imagine Film Festival, ULTRAcinema, Fisura, Istanbul International Experimental Film Festival)
Feature film: RAISING CAIN DIRECTOR'S CUT
(Saturn Award Nominee)
Docudrama series:
SCHULDIG OF NIET? | BNN-VARA]
VERKRACHT OF NIET? | BNN-VARA]
LOSER (Week Tegen Pesten) | KRO-BNN
Documentary series:
VERBORGEN VERLEDEN VAN NEDERLAND • BONTE VROUWEN | NTR
FOTOSTUDIO DE JONG | VPRO
BUREAU ROOIJAKKERS & VERSTER • LOLA ZOEKT BROOD • EDWIN ZOEKT FORTUYN • VOLLE ZALEN • NU TE ZIEN | AVROTROS
JE ZAL HET MAAR ZIJN • SPUITEN & SLIKKEN OP REIS • IT GETS BETTER | BNN-VARA
RETURN TO SENDER | Net5
Commissioned films:
THE ROAD TO CHANGE | Rabobank (Double Golden Heron Winner for Creativity/Innovation + Best Film of 2019)
THE HUMAN BEHIND THE SICKNESS | O2PZ
ORANGE BABIES South Africa + Namibia | RTL4
NEDERLANDSE HERSENSTICHTING (Winner Socutera Award)
+ branded content for Google • Philips • T-Mobile • Bosch • Rexroth • TomTom • Schiphol Airport • Wagenborg Passagiersdiensten • Trigion • Uitgekookt • Becx Verhuur
Commercials:
KPN • AfterPay • Kijkwijzer, Old Amsterdam • Bloemen.nl (ADCN + Young Directors Award Nominee) • Samsung • Spotify • Autodrop • Buienradar • Mora • Shoeby • Viacom (Winner 2nd Prize Adweek) • Canon • Crystal Clear • Coolbest • 999 Games • Hasbro • Rexona • Maaslander • Sportlife • Sängjätten • Interfloor • Universal Pictures • Bang & Olufsen • Hunkemöller and many others
Miscellaneous television:
ATLAS • 50 WAYS TO KILL YOUR MOMMY | NTR
WAAR IS DE MOL? | Veronica + SBS6 (Sound & Vision Awards Nominee)
RUBY WAX MEETS • SAMENWONEN • BORN2COOK • ACHTER GESLOTEN DEUREN • DE VOLGENDE STAP | Net5
FUTURE FIGHTERS | MTV
YOUR PERSONAL SHOPPER • HELP, PAPA KOOKT • BOYS DREAMZ | RTL4
Leaders + Promos:
CELEBRITY APPRENTICE | Videoland
TALPA STATION ID'S (Winner Bronze Button)
Video essays:
REMAKING FEAR: EVOLUTION OF THE BODY SNATCHERS 
(Official Selection Imagine Film Festival, shortlisted in Sight & Sound's Video Essay of the Year))
HITCHCOCK & DE PALMA SPLIT-SCREEN BLOODBATH 
(Shortlisted in Sight & Sound's Video Essay of the Year)
Mash-up series: PRETTY MESSED UP
(Vimeo Staff Pick + Official Selection Shock & Gore Film Festival)
Short film: OUT OF SYNC 
(Winner I've Seen Films Award + Vimeo Staff Pick)
Workshops + Masterclasses
BADLANDS FOUND FOOTAGE WORKSHOP | Eye
REMIX THE MOVIES • REMAKING FEAR | IFF
A good director gives a message wings. Film is a weapon with emotion as ammunition and only creativity pulls the trigger.
Who is Peet?
Peet Gelderblom is an award winning director and editor from the Netherlands with over 25 years of experience in films, commercials, documentaries, drama, television, video essays and online content. He's a sharp visual storyteller and conceptual thinker, a good listener and a reliable force on any set. With his keen sense of style, mood, drama, musical timing and graphic eye for composition, Peet is an expert at giving audiovisual content the exact look and feel it needs.
Films
His feature film debut WHEN FOREVER DIES, an archival fiction co-produced by Tangerine Tree and EYE Filmmuseum about the eternal battle of the sexes, was officially selected by Il Cinema Ritrovato, Thessaloniki, Film Fest Ghent and the Netherlands Film Festival. The film won the Audience Award at Bogotá Experimental Film Festival and the soundtrack (to which Peet contributed) has been nominated for a Buma Award. In 2016, Peet's re-cut of Brian De Palma's RAISING CAIN was elevated to Director's Cut by the Hollywood auteur himself, after which Peet supervised its restoration. The highly acclaimed international Blu-ray was nominated for a Saturn Award. OUT OF SYNC, his short fiction film starring Romijn Conen, Marieke de Kruijf and Beau van Erven Dorens, screened at numerous festivals worldwide, received an award in Milan and was elected Vimeo Staff Pick. Peet's documentary REMAKING FEAR: EVOLUTION OF THE BODY SNATCHERS premiered at Imagine Film Festival in Amsterdam. PRETTY MESSED UP, his series of conceptual movie mash-ups, had a 6-episode run on Fandor and Filmscalpel.
Commercials and Branded Content
His commercial portfolio includes work for clients like Google, KPN, Philips, Schiphol Airport, Universal Pictures, TomTom, Samsung, Spotify, Old Amsterdam, AfterPay, Kijkwijzer, Autodrop, Buienradar, Mora, Crystal Clear, Bosch, Canon, Maaslander, Sportlife, Bang & Olufsen, Shoeby and Hunkemöller. THE ROAD TO CHANGE for Rabobank received two Golden Heron awards for Creativity/Innovation and Best Film of the Year. According to the jury: "The visuals, music and acting are top notch and a sign of workmanship."  SCREWED for Bloemen.nl made it onto the shortlists of the ADCN and the Young Directors Award in Cannes. Peet won the Socutera Award for a public announcement for the Dutch Brain Disease Foundation in 2007.
TV
Peet's TV-work includes documentaries, drama, programs, leaders, promos and press presentations for nearly every Dutch public and commercial tv-channel. He worked with talent as diverse as Ruby Wax, Art Rooijakkers, Waldemar Torenstra, Sophie Hilbrand, Tim Hofman, Geraldine Kemper, Lauren Verster, Katja Schuurman, Johnny de Mol, Tim Haars, Fred van Leer, Cornald Maas, Bridget Maasland, Erik van der Hoff, Linda de Mol, Patrick Lodiers, Renate Verbaan, Natasja Froger, Rudolph van Veen, Sebastiaan Labrie and many others. His famous travel show WAAR IS DE MOL? was nominated for the Beeld & Geluid Awards and his live action station ID's for Talpa received a Bronze Button in 2006.
Online
He's written and edited numerous articles and video essays for websites such as RogerEbert.com, IndieWire, Little White Lies, Fandor, Film School Rejects and Slant. Between 2004 and 2008, Peet was the founding editor of 24LiesASecond, a now-defunct platform for provocative film criticism with an underdog bite. Peet's movie-crazed comic strip DIRECTORAMA, which Hollywood filmmaker Don Mancini called "Doonesbury for cineastes," was serialized in Smallformat magazine.
Creative Creature
Peet has been obsessively creative since a teenager; always drawing, writing, performing, composing songs or shooting shorts with his Dad's Super-8 camera. In his twenties he was the singer in a funk band called Dirty Laundry and as Man After Midnight he continues to make music today. He studied Graphic Arts in Rotterdam and briefly worked as a copywriter and desktop publisher, before making the audiovisual switch to motion graphics and video editing.
Peet can also be booked as a speaker and gives the masterclass REMIX THE MOVIES on archival storytelling and circular cinema.