I'm re-reading A Dame To Kill For at the moment–my favorite Sin City yarn and the graphic novel that will form the centerpiece for the upcoming Sin City (2005) sequel. One look at the panel below unveils how grateful we should all be for Frank Miller and Robert Rodriguez to have cast the curvaceous Angelina Jolie in the leading role. If their faithfulness to the source material in the first adaptation is any indication – and I don't see why it shouldn't be – expect OODLES of nudity in the next installment…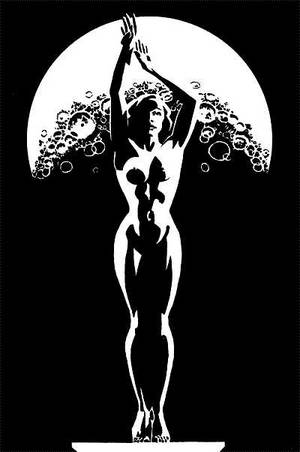 It's easy to be entertained by Sin City's glorious design and think that's all there is to it. The hard-boiled prose blown to Shakespearean proportions, the one-dimensional pulp archetypes and a downright fetishistic attention to sleaze and violence, make it seem all surface. And yet Miller taps into the romantic core of masculinity to give flesh to the most primal of urges.
A story like A Dame to Kill For laughs at the whole flimsy notion of civilization – social etiquette, virtue, nobility, tact – rips it open like the cheap dress that it is and reveals the roaring heart underneath. If film noir taught us that love is a trap, the inhabitants of Sin City show us how much we love to be trapped. Even if destiny looks us right in the eye, we can't help giving in to our animal instincts.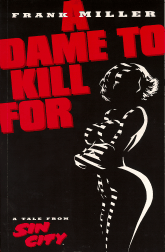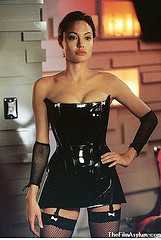 Which brings us back to überwoman Angelina Jolie… A word of advice: Forget the bad press Mrs. Pitt is currently getting because of the boring Brangelina hype. That's gossip for losers. Forget all about that silly little tomboy called Lara Croft. Stuff for twelve-year-olds. Ava Lord is the role Angelina Jolie was born to play. The actress always seems slightly out-of-place in realistic settings, and here's why: Sin City is where she truly belongs.
To be credible in Sin City, only the incredible will do. Jolie's supernatural charisma will be a natural fit for the Frank Miller universe. Divine physique? Check. Throaty voice? Check. Unrestrained pleasure to the senses? Check. Danger lurking behind almond eyes? Check. We're talking about Ava Lord here: the femme fatale to end all femmes fatale. It was a very inspired decision of the filmmakers to postpone the production of their sequel until after Jolie's pregnancy. This dame shall be worth the wait.