De Nederlnadse regisseur Peet Gelderblom voerde onlangs de supervisie over een in september te verschijnen director's cut van Hollywood veteraan Brian De Palma (Scarface, Mission: Impossible). Het betreft de cult klassieker Raising Cain, waarvan De Palma fan Gelderblom op eigen houtje een alternatieve montage maakte op basis van De Palma's oorspronkelijke script. Het is de eerste keer dat een zogenaamde "fan edit" het schopt tot officiële director's cut.
Gelderbloms hermontage begon als een film-kritisch experiment dat op 31 januari 2012 onder de naam Raising Cain Re-cut werd gepubliceerd op de Amerikaanse website Indiewire. Daar werd hij opgemerkt door de meester zelf. De Palma vond de hermontage zo geslaagd dat hij er persoonlijk zorg voor heeft gedragen dat Peets versie op blu-ray wordt uitgebracht.
In De Palma's eigen woorden:
Felicitaties aan Peet Gelderblom voor de restauratie van het echte verhaal van Raising Cain. Hij kreeg voor elkaar wat ons niet lukte toen de film werd uitgebracht. Zijn versie is wat ik oorspronkelijk wilde dat de film zou zijn.
De dubbele Raising Cain Collector's Edition blu-ray zal 13 september verschijnen bij het Amerikaanse label Shout! Factory. Peet zelf is te zien en te horen in de bonus features, waarvoor hij speciaal een introductie opnam en een video-essay produceerde.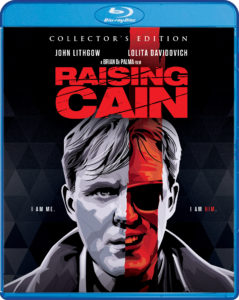 Een uitgebreider, meer persoonlijk verslag (engelstalig) is te lezen in deze blog post.
En zo is het nieuws gebracht in de Volkskrant:
"Nederlandse regisseur overtreft Brian De Palma"
De Amerikaan Brian De Palma maakt samen met Steven Spielberg, Francis Ford Coppola, George Lucas en Martin Scorsese deel uit van de Movie Brats, een generatie filmmakers die Hollywood sinds de jaren 70 op hun grondvesten hebben doen schudden. Naast blockbusters als Carrie, Dressed To Kill en The Untouchables regisseerde hij ook Hitchcockiaanse thrillers als Blow Out, Body Double, Snake Eyes en Femme Fatale. Hij staat bekend om zijn voyeuristische stijl, waarin warmbloedig temperament en onderkoelde berekening op een unieke manier samenkomen.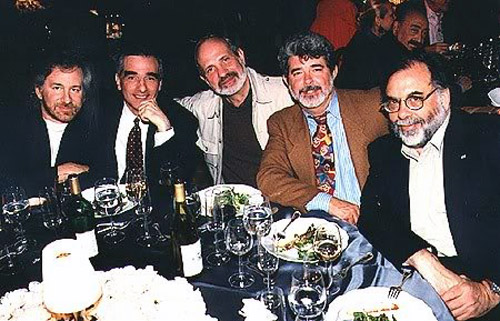 V.l.n.r.: Steven Spielberg, Martin Scorsese, Brian De Palma,
George Lucas, Francis Ford Coppola