Goody, goody, goody! Today, Cartoon Brew's Amid Amidi and Jerry Beck officially launched CartoonBrewFilms.com: making "the world's finest animated shorts available for convenient download to your iPod and personal computer."
If the first three shorts are any indication, we're up for something really special here! Ever wondered how an independent, adult short from the guys at Disney and Pixar would look like? Just take a peek at the color board below. Boys Night Out by Teddy Newton and Bert Klein feels like sexual education with Gerald McBoing Boing.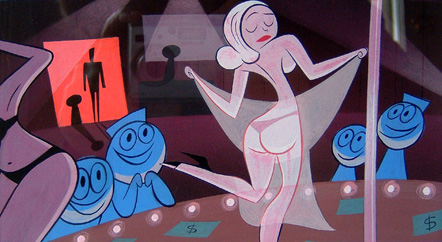 Go check it out for yourself. The shorts cost $2,00 each–a pretty good deal if you ask me. This initiative deserves all the support it can get!