Directorama: The Comic Strip
Directorama is also the name of a weekly webcomic that ran from October 15th 2007 to June 28th 2009. Written and drawn by Peet Gelderblom, it chronicles the afterlife of a pantheon of legendary directors duking it out for artistic supremacy. Their heavenly mission: To inspire filmmakers carrying the torch back on Earth. The strip itself was inspired by the near simultaneous deaths of cinematic masters Ingmar Bergman and Michelangelo Antonioni in the Summer of 2007. New episodes of Directorama were published every Monday, at this very website, as well as The House Next Door and the Brazilian website Cinema em Cena (in Portuguese). The first 30 episodes also appeared in Smallformat magazine.
Sergio Leone and the Infield Fly Rule has described Directorama as "a new brand of film criticism in a Sunday-funnies format that suggests an ongoing conversation with styles and stylists as far-ranging as Doonesbury, Sergio Aragones, Bill Watterson, Fractured Fairy Tales, Neil Gaiman and, of course, Cahiers du Cinema."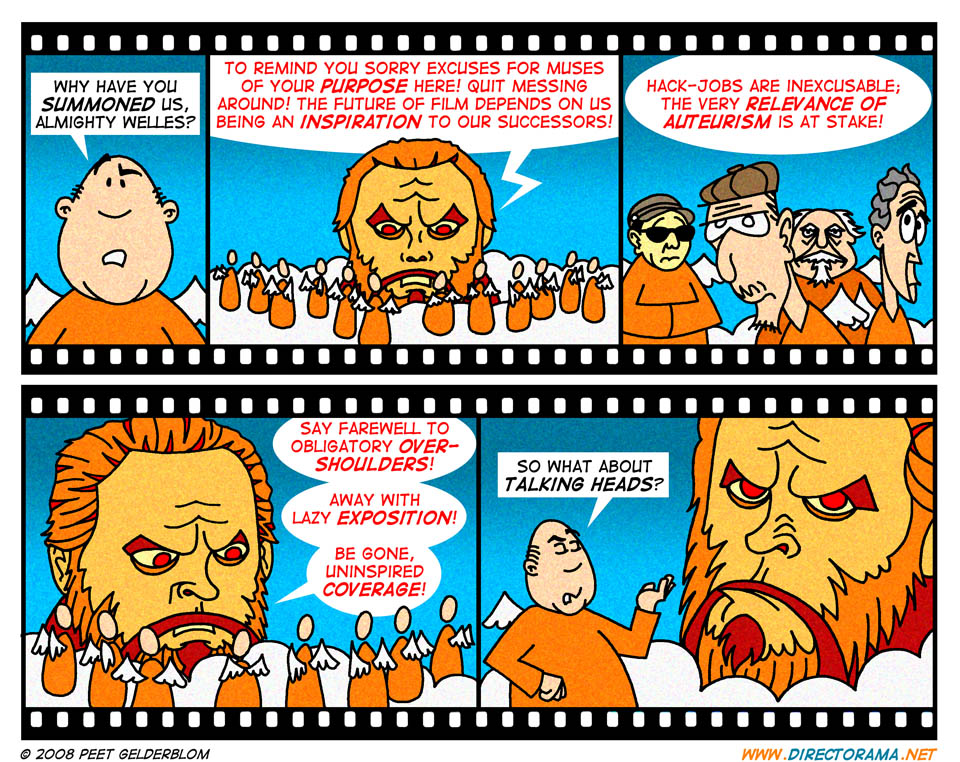 Auteurs in Negative Space collects the first Season of Directorama plus 31 (annotated) movie-obsessed cartoons that are unavailable anywhere else. Mix in a foreword by Dennis Cozzalio and you've got 74 pages of filmstrip fun in glorious Technicolor. If you're a cinephile, filmmaker, film critic, movie geek or industry professional, this book either belongs on your coffeetable, on top of the stack in your bathroom, or secretly locked away in a hidden drawer.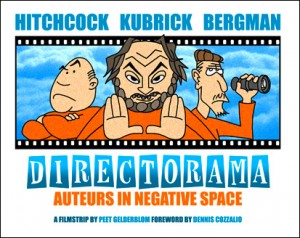 9″ x 7″, perfect binding
Click on the blue button below to move on to the ordering page

"Doonesbury for cineastes… Witty and even political…
Film lovers no longer have to die before going to movie heaven;
Peet Gelderblom brings it to us, with Directorama."
— Don Mancini (Child's Play, Seed of Chucky)
"Hilarious… If you're a movie fan–particularly a fan of great
film directors–you're gonna eat this up page after page. It's a gem."
— Jamey Duvall & Jerry Dennis (Movie Geeks United!)
"We all know that deceased auteurs have achieved immortality in
their movies, but now they have an off-screen place to hang out as well.
It's called Directorama and only somebody as talented, knowledgeable
and infatuated with movies as Peet Gelderblom (who knows his Ozu
from his Antonioni) could have conceived and realized such a place.
To paraphrase the Righteous Brothers: If there's a cinema heaven,
well you know they've got a hell of a credit arbitration process."
— Jim Emerson (Scanners / RogerEbert.com)
"Critics who are struggling to fit a film's core issues in 800 words,
take notice! Peet is able to capture filmmaker's essences in a few
word balloons, while still being funny and illuminating."
— Pablo Villaça (Cinema em Cena)
"That movie-mad medium Peet Gelderblom has been to the Great
Beyond and lived to tell about it. If you've ever wondered about the big
mysteries of life (i.e.: What does Andrei Tarkovsky think of The
Bourne Ultimatum?; Would I like Ingmar Bergman when he's angry?),
look no further than Directorama, the Antonioni-esque urtext of
cinephilia, a Kubrickian head-trip beyond the widescreen veil."
— Keith Uhlich (The House Next Door)
"Peet Gelderblom: the master of cine comics."
— Juergen Lossau (Smallformat Magazine)
"One of Peet's singular achievements with the series is that he has
found a voice within the comic strip medium that invites serious
consideration of cinematic issues as well as imaginative flights
uncommon to more conventionally grounded criticism."
— Dennis Cozzalio (Sergio Leone and The Infield Fly Rule)
"This is movie satire of the highest order… (Peet's) angular and
stylized characters perfectly capture the figures that he's parodying,
probably the best work of that kind that I've seen this side of Kate
Beaton or the earlier Dave Sim caricatures."
— Michael Petersen (Patchwork Earth)