About a week ago, Online Film Critics Society member Pablo Villaça dropped me an email. Pablo is the editor of one of the main Brazilian websites about cinema and, apparently, a big fan of both Directorama and the Negative Space cartoons. He asked me if I'd be interested in letting him translate my comics and publish them on Cinema em Cena. Needless to say, I was!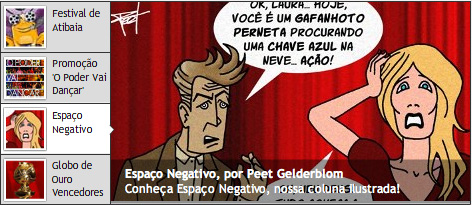 So there it is: From next week on, Bergman, Antonioni, Hitchcock, Kubrick, Welles & co will be battling it out in Portuguese on Tuesdays. Every Thursday, it's Espaço Negativo time! The first episode of the latter series is already up and can be found right here.

One of my films has won the Socutera Prize 2007. I'm talking about a public announcement that some of you may remember from an old Screening Room entry. The jury praised the film's subtlety, the music, the acting and its clever construction. Needless to say, I feel pretty honored.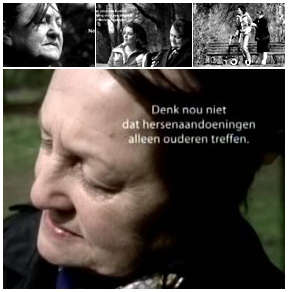 Interestingly enough, we've won the prize for the rarely seen extended version. The film was originally conceived as a 25-second commercial, but when the opportunity arised for the Dutch Brain Foundation to fill a dedicated timeslot on national television, their agency asked my production company if we could take a look at the rushes and figure out a way to stretch the film to a whopping 95 seconds! With the help of a few carefully chosen titles, loooong fades to black and music by John Williams, we pulled it off.
For behind-the-scenes information and the 25-second version, check this post.
Here is the extended version:
One month ago, the "Poster Art" category of this blog was picked up by some very popular sites, spreading the Embarrassing Movie Poster virus out over cyberspace. In October alone, Lost in Negative Space got 304,398 hits and I'm still getting over 2000 a day! (Note to new visitors: There's more than this poster art category! Be sure to click on the Lost in Negative Space banner above to find the rest of my posts.)
Let me clear up a few misunderstandings: For one, not all posters in the Poster Art category are embarrassing ones (one poster commented "What's wrong with this one?" to the one I designed for Matt Zoller Seitz's imaginary Moby Dick). Also, these were not the 15 most embarrassing movie posters of all time–it's an ongoing series. To see all of the posters, click on Poster Art on the side bar. When you reach the bottom of the page, click "Previous entries." Believe me, you wouldn't want to miss those first few entries!
One other thing: There is always one or more aspects to laugh or cringe about in these posters, but that doesn't mean I think all of them are total junk. Some are very well made and quite a few are intentionally flirting with bad taste. Then again, others are just plain bad or flat-out appalling in presentation and/or subject matter. You'll be the judge as to which is what!
Enough talk, here's #16:
This is my contribution to the Close-Up Blog-a-Thon at The House Next Door. Be sure to check back tomorrow for the first episode of Directorama!
Do you want your woman to love you real good? Just cage her! 🙂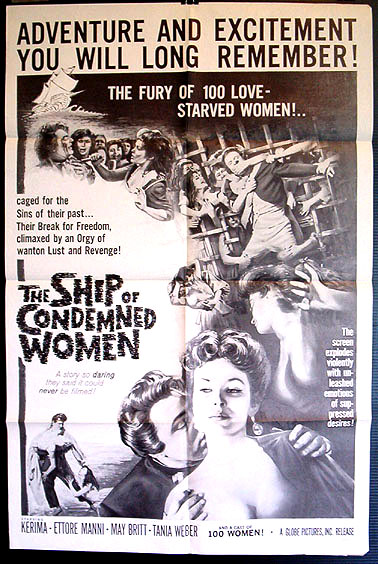 Exciting news, everyone:
My new webcomic Directorama will become a weekly item at the esteemed film blog The House Next Door!
I've got a time schedule, too: Every Monday starting October 15!
Yes, you've read that right: Every Monday, one-and-a-half weeks from now!
Apparently, the 2-episode preview that I've sent the editors (New York Times critic Matt Zoller Seitz and the very prolific Keith Uhlich) put stupid grins on the faces of two of the smartest film scholars on the planet. It even caused one of them to laugh out loud repeatedly. Shocking stuff!
You know what that means?
It means I've got some more drawing to do…
For those who can't wait any longer, I've put up all 27 Negative Space cartoons at Webcomic Nation in enhanced resolution. Enjoy!
Note the very promising tagline: "Breeds with anything…" I'm sensing a vague erotic component there, don't you? Perhaps there's some truth to what they say about men with big feet…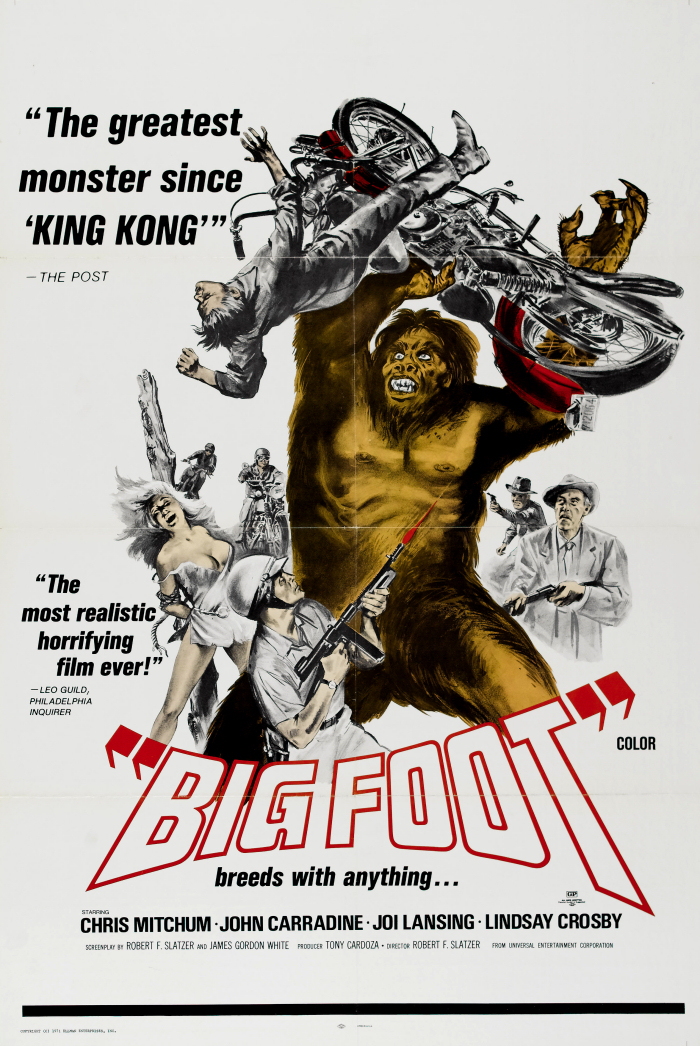 Thank God for YouTube! I had no idea, but according to the IMDb, Terrence Malick directed this short in between Badlands (1973) and Days of Heaven (1978).
I love it how you can already sense his fascination for English colonist John Smith and Native American culture.
Check it out: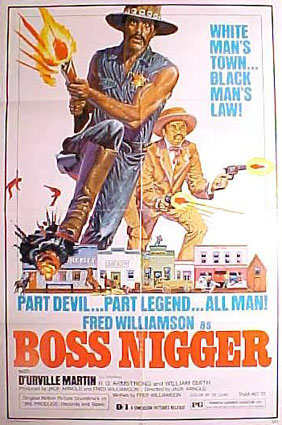 Hi all,
Believe it or not, but these days my stats are higher than they ever were. I'm not sure what that means, because it's been quite a while since I posted anything. Maybe it's because all of you keep checking to see if I've kicked off the new weekly webcomic yet. If that's the case: Don't lose faith! DIRECTORAMA is slowly but surely taking shape…
In fact, I've already made it through the hardest part. Before the actual drawing could begin, I needed to settle on a specific format that I'd be happy to stick to for quite some time. Right from the beginning, I aimed for a stable, accessible framework that would leave plenty of room for experiment. With this in mind, there were some big decisions to make regarding the overall style of the comic (slightly more wacky than the Negative Space cartoons–the characters will have four fingers instead of five) and the amount of panels (each episode will have the look of a Sunday newspaper comic, consisting of two horizontal strips). What's more: Since this isn't my day job, I needed to find ways to simplify my cartooning process.
The past few weeks, I've read through a lot of interviews with dead and living directors (yes, that's a hint), I've studied their faces and made numerous sketches. I've also scripted about 11 episodes. So far, I'm absolutely delighted by the direction this project is taking me. My plan is to start publishing as soon as I've finished three pages.
So by all means, keep watching this space!
And oh yes, before I forget: I haven't said goodbye to the Negative Space cartoons just yet. I've already made a promise to Matt Zoller Seitz that I'll devote one to his upcoming Close-Up Blog-a-Thon.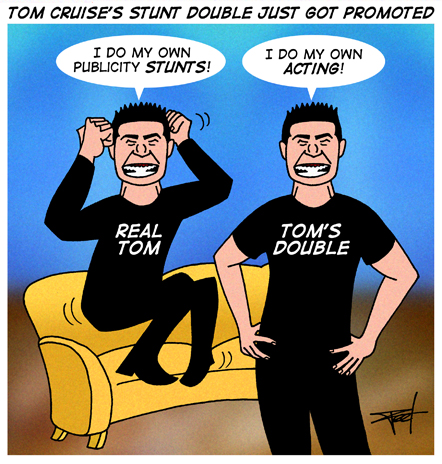 This may or may not be the last Negative Space cartoon, at least for a while. I'm going to try and focus on a new film-related project: the webcomic DIRECTORAMA. (See my previous post.)
Yes, I'll admit it: it's been quiet around here lately. During my vacation in Denmark I've been online sporadically, and ever since I came back (a little over a week ago) I've been taking it easy. Apparently, I needed the rest…
Meanwhile, the comment section of Negative Space #26 stimulated some great responses on the subject of movie cliches. Like many of you, I have a real love/hate relationship with these. Night scenes bathed in blue "moonlight" irritate the hell out of me, but I always perversely enjoy a cheesy line of dialogue like: "It's quiet here. Almost… too quiet." And the inevitable shriek of feedback whenever a timid character grabs a stage microphone always puts a big smile on my face.
Some of these cliches just feel so "right" that it almost feels unnatural when they don't occur in real life. I once shot a scene where someone before the camera had to flip a coin, and I made a big deal out of it that the sound man had to properly record the metal "ping." Everyone on the set knew what I was talking about and we collectively held our breath during the first take. Of course, there was no "ping." Go ahead, try it at home. There's no way you'll hear it. It's at moments like these that you realize we're more conditioned by the movies than we'd like to admit.
OK, so what's next?
Well, there'll be a new Negative Space cartoon up real soon, but that's not all… I'm preparing a brand new online project that will (hopefully) dominate most of my blogging time in the months to come. Perhaps some of you regular readers will remember Andy Horbal urging me on this site to dig deeper into the fertile ground of drawn criticism. Believe it or not, but the recent passing away of Bergman and Antonioni inspired me to give it a try…
(Drum roll)
Picture it: A weekly multi-panel comic strip, no less, by the name of DIRECTORAMA. I don't want to give away too much just yet, but expect me to take the idea of graphic film criticism to the next level, albeit in very unexpected ways. That is, if I can make this thing work at all. It may very well mean the start of a whole new Web site besides this one (along the lines of what you find on Webcomics Nation). Watch this space to be the first to know.
Good idea? Bad idea? Let me know what you think!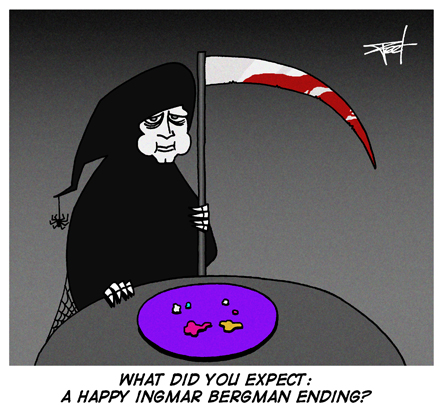 Greedy bastard, that Grim Reaper. As if the Swedish master wasn't enough, he had to take Antonioni on the same day. If there'd be some pie left, I'd throw it in his pale face…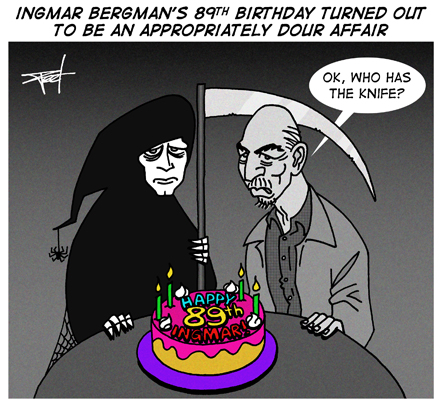 A big Thank You to David Hudson and Edward Copeland for the inspiration!
____________________________________________________________________
UPDATE JULY 30th:
Just heard the news today that Ingmar Bergman has passed away.
I´m speechless…
When I was in the process of coloring this cartoon (yeah, it didn´t take too long this time around), I wrote an email to a friend that jokingly referred to Bergman´s impressive age: "I just hope I can finish this bloody cartoon on time," were my exact words. Honestly though, who could see this coming? Bergman was one of cinema´s greats and he'd been around for so long that I was starting to believe he would never leave us. (In fact, I´d already planned a second cartoon for next year. It would´ve had exactly the same setting, only the Grim Reaper would groan: "Good grief, not pie again…")
I promise I´ll come up with an appropriate follow-up post soon. Just have a little patience, because I´m currently on vacation in Denmark and I'm not sure when (or if) I'll be able to upload something from my laptop.
Take care,
Peet
____________________________________________________________________
UPDATE JULY 31st:
I've put up a follow-up post here.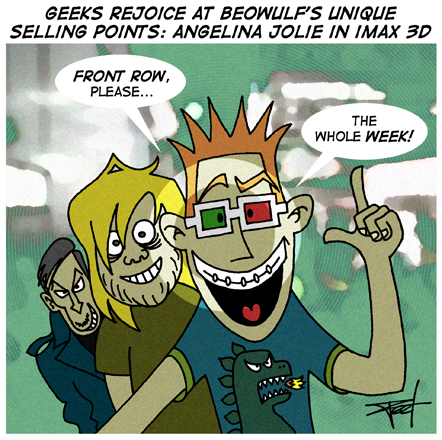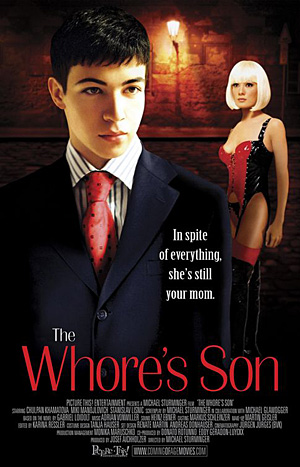 Every Friday, a cold shiver ripples through the blogosphere: Whose turn is it to be screen tested? I'm talking about DVD Panache, of course, the award-winning blog where Adam Ross hosts an on-going series under the name Friday Screen Test. Each week, someone from the film blogging community is asked to answer ten questions. The resulting posts are always rewarding, either as a way get to know your favorite bloggers better or to discover online personalities you've never heard of before.
And yes, I'm afraid it's my turn today.
Adam, being the sneaky bastard that he is, knows that it's the most simple questions that are the hardest to answer. When I received his list of ten by email, I almost burned a hole in my computer screen mulling them over–instant writer's block! Fortunately, it was just a phase…
So let's get down to business: If you're wondering how Peet outside his comfort zone sounds like, and if you're not easily put-off by a few personal confessions, check out today's Friday Screen Test.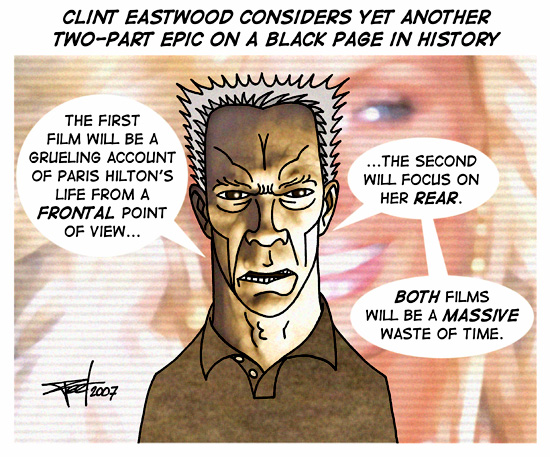 (Click on the image to see this cartoon slightly larger.)
Any which way you look at it… the girl ain't worth the look.
This is my contribution to Damian Arlyn's Film Music Blog-a-Thon at Windmills of My Mind. ___________________________________________________________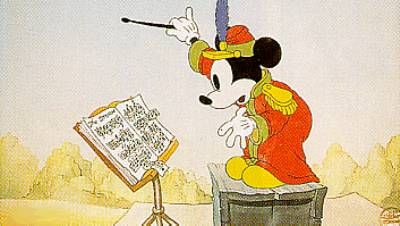 A catchy negative term can do a lot of damage. As far as film criticism is concerned, just consider the massive abuse of a phrase like "style over substance," a knee-jerk "yeah, right" to instantly smother a filmmaker's poetic license, or the buzzword of the moment: "torture porn." In more or less the same category falls the catchphrase "Mickey Mousing."
Mickey Mousing is the standard description for film music that directly mimics the action onscreen. You know, just like the old Disney shorts: Goofy falls flat on his face–TOOT!–a tuba honks. A classic example is the ending of the original King Kong, in which the music is crescendoed in such a way as to suit Kong's motions in climbing the Empire State Building.
In criticial and educational circles, Mickey Mousing is often looked down upon. The general consensus is that it's lazy, cheap and old-fashioned for a soundtrack to ape the visuals. And yet many Hollywood maestros frequently make use of the technique: Danny Elfman (Beetlejuice, The Simpsons), Hans Zimmer (Spirit, Pirates of the Caribbean) and the late Jerry Goldsmith (Gremlins, Total Recall).
The opposite of Mickey Mousing takes place when a piece of music complements the images to establish a general mood or theme. This is usually called "underscoring." Contemporary underscorers are Cliff Martinez (Traffic, Solaris), Michael Nyman (The Piano, Gattaca), Gustavo Santaolalla (Brokeback Mountain, Babel), Thomas Newman (American Beauty, Little Children), Alexandre Desplat (Birth, Syriana) and Philip Glass (Candyman, The Hours). These guys rarely emphasize what's already on the screen, and needless to say, I appreciate their work as much as the next cinephile.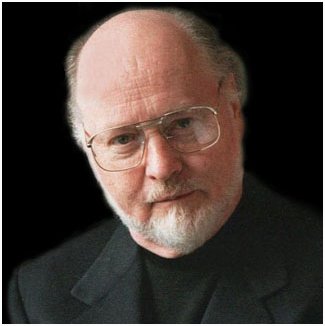 The king of Mickey Mousing?
With no one questioning the merits of underscoring, why exactly deserves Mickey Mousing such a bad rap? What seems to bug people the most is that it wears its intentions on its sleeve. Mickey Mousing tells the audience explicitly what to look for, how to empathize, and when to laugh, cry or shiver. It takes the frontal assault, whereas most critical minds prefer a soundtrack to blend into the background and leave room for personal reflection. Frankly, some of us don't like to be blatantly manipulated.
Even respectable directors like Sidney Lumet (in his excellent book Making Movies) and John Carpenter (in his director's commentary on the Prince of Darkness DVD) have openly expressed their disdain for Mickey Mousing. The latter jokingly crowned John Williams the king of Mickey Mousing. In the same breath, Carpenter claimed that Bernard Hermann was the quintessential underscore composer, with Vertigo being an honorable example.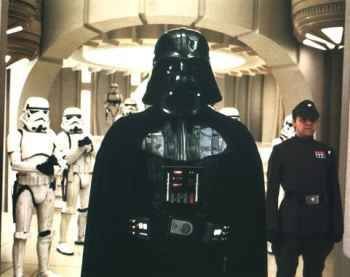 Fair enough. A bombastic music cue like The Imperial March (you know the one: "TAAA! TAAA! TAAA! TAA-TADAA! TAA-TADAA!") leaves little room for ambiguity. It practically screams out to the audience: Beware! Something Sinister, Totalitarian and Oppressive has entered the room! And honestly, isn't that exactly what makes the tune so irresistable to begin with? When a hard-breathing Darth Vader is about to wipe Rebellion ass, do we expect anything less than military drums and pumping brass? Of course not! A gentle woodwinds motif just wouldn't cut it…


Click to hear a sample of The Imperial March
By the same token, what's not to love about Hans Zimmer in prime fighting shape, or a rousing Danny Elfman score? And before you start to think that Mickey Mousing doesn't leave room for subtlety: Take another look at the prom scene in Carrie, in which Pino Donaggio's music Mickey-Mouses in perfect harmony with Brian De Palma's visual orchestrations to bring you to the edge of your seat in anticipation for the bucket of blood to fall.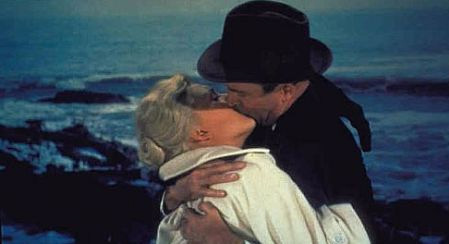 In fact, I'd even argue that Vertigo's soundtrack, which Carpenter embraces as a full-blooded piece of underscoring, incorporates quite a bit of Mickey Mousing. There's no doubt that Herrmann's haunting score is layered and full of conflicting emotions, but it sounds fittingly lyrical when Scottie and Madeleine share a passionate kiss, and appropriately disturbing when Scottie's fear of heights comes into play. And wasn't it Hermann who wrote Mickey Mousing history by syncing shrieking strings to the fatal stabs of a killer's knife in the world's most famous shower scene? When a composer drums up a frenetic, percussive score to support a thrilling car chase, or lays an elegiac theme over a melancholic tableau, his or her technique isn't that far removed from Mickey Mousing. The music still follows and punctuates the visuals–only the beats are longer.
Sometimes film music is supposed to take a back seat or provide its own commentary on what happens in the picture. Sometimes film music needs to work in tandem with the visuals to help the viewer relate with the characters or a given situation. Both approaches are legitimate. You can spend the rest of your life arguing wether Thomas Newman (Finding Nemo) or Scott Bradley (Tom & Jerry) wrote the superior soundtrack, and I'll say: Isn't it great that we don't have to make these either/or choices? We can have both to enjoy!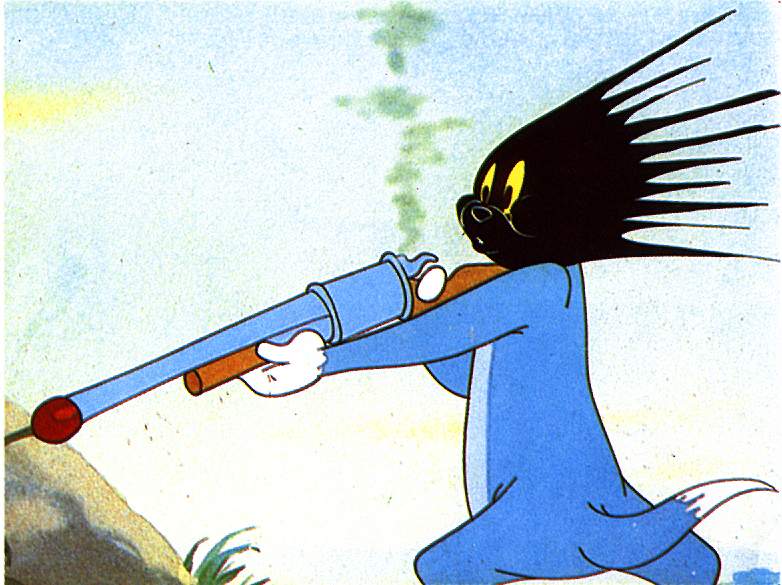 ___________________________________________________________
RELATED:
"Our minds may focus on what there is to see, how we experience the view is often heard."
Sound as Vision: Riding The Blind Giant