Francis Ford Coppola recently said: "The less expensive the film is, the more ambitious it can be." Seen in this light, my upcoming short may be the most ambitious movie ever undertaken.
Don't worry: a remake of Citizen Kane is not exactly in the cards, but hey–nice way to open a paragraph, right?
Out of Sync will be a short film with a gimmick. Only it's not exactly a gimmick. It will be the first movie filmed in Anamorphic AuDiVision. For comparison: think split screen, but instead of two or more juxtaposed visual sequences it's the sound that will be seperated from the image, leaving it up to the audience to connect the dots between what you see and hear. For those of you who smell style-over-substance, I can only stress that this was the best way to express what I chose to tell.

I've been lucky enough to assemble a to-die-for Dutch cast with name actors Romijn Conen and Beau van Erven Dorens and the wonderful theatre actress Marieke de Kruijf. The whole production is in the very safe hands of De Beeldbrigade. Thanks to the help and efforts of my excellent DP Rogier den Boer,
Team Facilities
,
The Crew
,
Singel Film
and a talented crew of volunteers, we were able to shoot on the
RED camera
using Arri-Zeiss Ultra Prime lenses, a Steadicam, tracks, a car-mount–you name it! Principal photography was on July 6th and 7th in and around my own home, and this Friday I've picture-locked my cut (a little under 10 minutes in length, including titles). So far, I'm very happy with what we've got. Next up is upscaling the offline to 2K resolution, color grading, titling, scoring and sound design.
To be kept in the loop, become a Facebook fan. You can find the first stills on that page, as well as a series of Behind the Scenes pictures.
Watch the teaser trailer below for a hint of what to expect.
I know, it's about bloody time something was posted around here. You must be wondering why it's taking me so long to pick up the pen and start publishing new Directorama episodes. I will eventually–but let me explain first what I've been up to these last few weeks…
I'm working on a short drama, that's what!
In the wake of the recent Kijkwijzer commercial, suddenly all elements came together: A single killer idea, a passionate crew ready to go and the possibility to use state-of-the-art equipment. It's going to be extremely cool. I've finished the screenplay about two-and-a-half weeks ago (perhaps the most unusual-looking screenplay ever written–more on that in a later post) and we're currently in the process of casting actors. The title: Out of Sync. Without revealing too much at this early stage, I can assure you that I'm very excited about the whole enterprise. After many years of directing for commercial clients and a wide range of TV-channels, I can't wait to finally take the bull by the horns and do something truly personal. It's one thing to criticize auteurs, it's another to try and be one

Back to Directorama: I intend to finish the Deadly McGuffin season properly with five or six more episodes, depending on my choice of lay-out. They've already been written (the apotheosis was carefully planned long in advance), but I have yet to start drawing. When these final episodes are done, I'll put the orange-robed men to rest. Yes, you've read that right: the weekly strip will be on indefinate hiatus soon. As far as I'm concerned, Directorama as a name will live on. I'll probably go back to blogging mode and post a new film-related cartoon every now and then. That's the plan, anyway. Gotta follow my muse, folks–it's all I got…
So there you go: now you know!

The last few weeks I've had the pleasure to direct a new commercial for the Dutch rating system for movies, television and games, called Kijkwijzer. It's basically a system that gives parents the usual age recommendation (AL for all ages, 6, 12 and 16), accompanied with a selection of nifty pictograms for Violence, Fear, Sex, Discrimination, Drugs Abuse and Strong Language.
In the past, our production company has made four other commercials for Kijkwijzer. Most of these were 2D animated by yours truly, using original designs by illustrator Shamrock as a starting point.
Here's how one of those looked:
One of the commercials was shot live action on 16mm film to communicate the slogan "Sometimes watching can be harmful." Ironically enough, a few TV channels boycotted the final product for being too "anti-television" and it was never aired. It's probably the first time a rating system was censored, and it will probably be the last…
A couple of months ago, Nicam (the institute  behind Kijkwijzer) and Paul Verstraeten Communicatie contacted us again. This time, they wanted to introduce a new age classification to fill the gap between 6 and 12. Following their briefing, I wrote a script featuring a cartoony laboratory where a team of Kijkwijzer scientists literally stumble upon the number 9. The script was originally intended to be done as animation, but we ended up producing it live action instead, with real lab people having a giant eyeball (Kijkwijzer's brand symbol) for a head.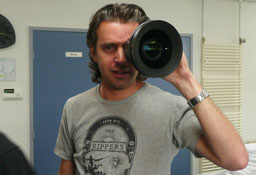 We took this as an ideal opportunity to shoot with the state-of-the-art RED camera, currently used for features as diverse as Jumper, Angels & Demons, Knowing and Soderbergh's upcoming The Girlfriend Experience. Not an ideal opportunity in the sense that it would provide us with a razorsharp digital picture (on the contrary: I aimed for a grainy, Nordic look along the lines of Roy Andersson's deadpan comedy You, The Living), but because this particular effects-heavy project could seriously benefit from the creative freedom that 4K of image resolution allows.
You see, our final product was always going to be broadcast in standard definition. The RED One, however, shoots four times HD. That's four (4!!!) times the resolution of a Blu-ray disc, thank you very much. In short, that meant we'd be able to frame everything in static mastershots – the ideal condition for visual effects – and still have the possibility to zoom in and out, crop and fool around with each take in post-production, making it all look like it was shot "from the hip," so to speak.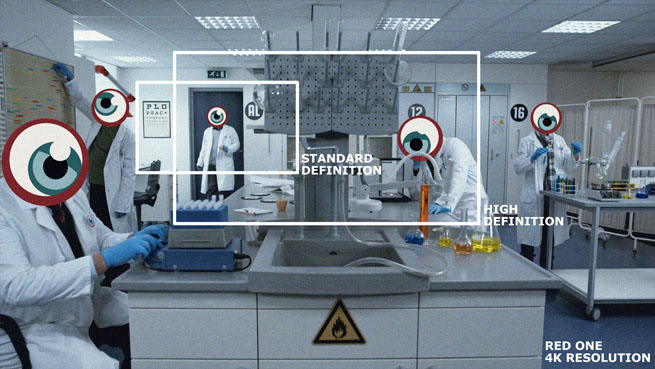 It took some time to scout the right location. We found that the majority of laboratories looked too cluttered, modern or impersonal for our purpose. I wanted something a little more simple, cosy and stereotypical: how a child would imagine a laboratory, yet still remaining an air of realism. In the end we discovered a showroom for lab products that was perfect for the job. We filled it with lots of props: test tubes filled with colored fluids, microscopes, medicine bottles, an X-ray lightbox, brown plastic coffee cups, an old-school beige computer, etc.
To cut costs, we used colleagues as extras, myself included. (Note to inexperienced filmmakers: never direct your own boss!) All of us wore ridiculous-looking bathing caps with crosses drawn on them for optimal motion-tracking. Below you can see my oldest son as a guinea pig of one of the scientists. I'm the scientist entering through the door and falling through a hole in the floor. (In reality, I fell to my knees on the gaffer's sand bag; I still have the bruises to prove it.) Needless to say, we had quite a laugh that day.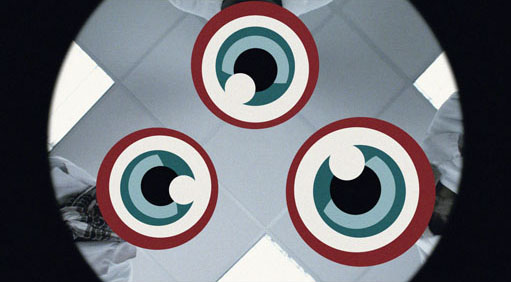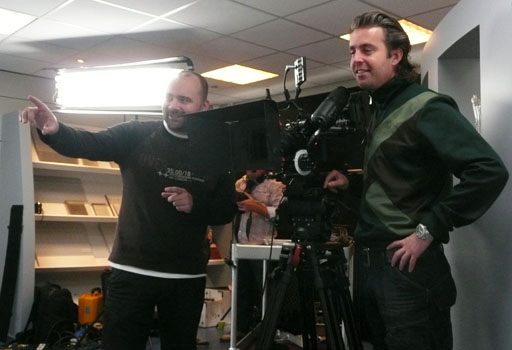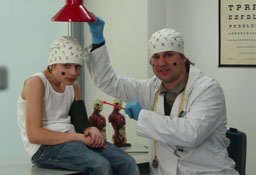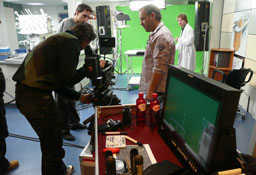 Post-production lasted about 9 days. Most of this time was spent in-house in Amsterdam, with After Effects as compositing software. We added the eyeballs digitally, as well as hand-held camera movement, tilts, crash zooms and a generous amount of grain. We even put floating bubbles in the test tubes and keyed in steam above a moving coffee cup. Sound design was done at REC Sound and involved another excellent voice performance by Bram van der Vlugt, an eminence grisein the Dutch theatre world.
Well… enough words. Have a look and see the end result for yourself:
Europe loves Obama and I'm proud of all my American friends today. I say this without a shred of irony.
A few years ago, I saw a documentary about the US that went into the impossible divide between liberal thinkers on one side and born-again Christians on the other. During an interview with a protest singer who once performed at Woodstock (his name escapes me), the Dutch reporter pointed out this complete lack of a common ground in America's political climate. The old hippie shrugged and said: "Yeah, well… THEY're the ones who are wrong. The world is round and they say it's flat. What are we to do, agree with them?"
To me, that quote pretty much summed up the biggest problem in the world today. And I remember thinking back then that there was no solution to such extreme polarization.
Not long after that, Obama made his famous "Red States, Blue States" speech at the 2004 Democratic National Convention. I've been a believer in him ever since.

Well, this came out of the blue!
A program I've directed has been nominated for the Image and Sound Award, under the category Entertainment. The program in question is Waar Is De Mol? and I can best descibe it as a cross between a real-life road movie and a celebrity interview show. The winners will be announced on January 26th next year. Fingers crossed…
From the press release:
Wednesday December 3rd the nominations were announced for the Image and Sound Awards 2008. Over the past months, a jury of TV professionals led by Peter Römer judged 288 Dutch broadcasts for a total of 11 prizes. (…) The Image and Sound Awards are the business prizes for the highest valued Dutch TV-programs, multimedia concepts, best actor and actress, and for the "TV Personality of the Year."

There are six different categories. In each category three programs are nominated from the season 2007/2008.

Category Entertainment
- De Reunie, KRO, director Boudewijn Schoewert
- Mooiste Meisje van de Klas, TROS, producer Simpel Media, eindredactie Bob Keller
- Waar is de Mol, Veronica, producer De Beeldbrigade, director Peter Gelderblom
Here's a trailer of the first season, which took place in Uganda, Kenya, Egypt, Zambia, South Africa and Tanzania:
—————————————————————————————
UPDATE 01/26/2009: Damn. Lost it!
Yesterday I was interviewed for Movie Geeks United!, one of my favorite radio podcasts out there. It was 40 past midnight here in Holland when we spoke on the phone and I was quite nervous (writing in English is one thing, speaking live to a quarter of a million listeners is a whole new challenge!). Fortunately, hosts Jamey and Jerry made me feel right at home. We talked about the new Directorama book, of course, but we also touched on subjects like Steven Spielberg (in particular The Temple of Doom) and – wait for it – the state of cinema. Near the end, I revealed something juicy about the upcoming Directorama season.
You can listen to the show by clicking on the white triangle above, via this link, or download the MP3. Better yet, you can subscribe to the podcast if you type "Movie Geeks United" into the iTunes store (it's free). I'm 40 minutes in, right after the interview with Mark Damon, the legendary producer of Das Boot, 9 1/2 Weeks and Monster.
This Friday my advance copy of the Directorama book fell on our doormat and, well… it looks pretty cool! It's been a lot of work to put together, but I really love the way it turned out.
After some last-minute tweaks (mostly having to do with color and font size), I've uploaded the final version on Sunday night and made the book publically available. This means it's officially for sale! (Just click on the button below this post to get yourself a copy.)
Here's a sneak preview (click to enlarge):

This volume collects the entire first series of Directorama, plus 31 movie-obsessed cartoons and a foreword by film blogger extraordinaire and good pal Dennis Cozzalio. Nearly every panel (and some of the texts) have been revised before going to print and the artwork is presented in its ideal resolution (you can actually count the film grain!). To make sure that some of the cartoons will still make sense in a few years from now, quite a few of them have been annotated and placed in context.
All in all, it's 74 pages in glorious Technicolor. If you're a cinephile, filmmaker, film critic, movie geek or industry professional, this book either belongs on your coffeetable, on top of the stack in your bathroom, or secretly locked away in a hidden drawer!
I have good news and bad news, everybody…
First the bad:
In the next few months, the 24LiesASecond website as you've come to know it will ceize to exist.
Now the good:
24LiesASecond will merge with The House Next Door.
Yes, you've read that right.
So what's going on? Let me explain…
When Jim Moran and me launched 24LiesASecond in 2004, we had no idea what a flight the blogosphere would take. We wanted to provide a platform for the kind of provocative underdog film criticism we couldn't find anywhere else and made a vow to aim high and shoot low. Hence, our specialty became the carefully edited long-form essay.
Fast-forward to four years later… Thanks to wonderful contributions by Mike Crowley, Giuseppe Puccio, Dennis Cozzalio, David Greven, Bob Cumbow and Will Lasky, the quality of the 24Lies articles has endured, but the quantity of our output leaves a lot to be desired. Despite a modest cult following (that would be you, loyal reader) and a handful of eminent supporters (Jim Emerson, Anne Thompson, Matt Zoller Seitz and – dare I say it? – Brian De Palma), our website has remained something of a hidden gem.
Most of you will know that 24Lies member Keith Uhlich has recently took over the editorial reigns at The House Next Door–a very popular film blog founded by the great critic/filmmaker Matt Zoller Seitz. After drawing 30 episodes of Directorama under Keith's editorial guidance, the idea arised for 24Lies and The House to team up. In many ways, The House Next Door has succeeded where 24Lies has failed: By offering new content to their visitors each and every day, Keith and editor emeritus Seitz have built up an impressive readership. Simply put: If quality online film criticism is your thing, Next Door is where it's at.
What will this merge amount to?
The 24Lies archive will find a new home at The House Next Door, where it will be introduced to a much wider audience. All the articles will be republished according to a weekly schedule, one by one, labeled under their own 24LiesASecond Essays tag. Future articles by the 24Lies authors will also be published on The House Next Door.
I'm sad to say that this means the 24Lies forum will be discontinued. This, of course, was an especially tough decision to make. We've had many memorable discussions on our message board over the past few years and I've always enjoyed reading every member's thoughts and opinions tremendously. For this reason, I've contacted Geoff Beran of De Palma à la Mod and he's looking into the possibilities to attach comment sections to his posts, so that we can keep in touch with eachother and De Palma's work. Let's hope Geoff can technically figure out a way to do this, because it would be the ideal solution to keep our little community together.
24LiesASecond's transition to The House Next Door will happen gradually. Members will be able to post on the forum for another two weeks or so. After that, a locked version will stay online for a few weeks to ensure that everyone has enough time to copy and save their favorite threads. The 24Lies essays will be republished on The House later this Summer. Until then, you can still find them here.
That's all folks. I hope you understand. Drop a comment and let me know what you think. Thanks for all your support and see you all at The House Next Door!
All the best,
Peet Gelderblom
Founding editor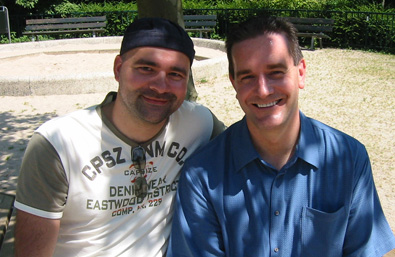 Editor-in-chief Jim Moran (right) with yours truly
I'm proud to officially announce that Directorama will be serialized in Smallformat, the bi-monthly magazine for fans of 8mm and 16mm film around the globe. Issue 1/2008 features a six-page special with the first 8 episodes of Directorama (the complete introductory story arc!) plus two pages of interview with yours truly, along with a couple of Negative Space cartoons.
Best of all, it has a brand new cartoon on the cover!
I haven't received the issue myself at this point, but I'm expecting to within the coming two weeks. To order yourself a copy, simply go to www.smallformat.de, click on "subscription" and choose to buy just one issue, mentioning "issue 1/2008," for the price of Euro/US-$ 10,-.
Aimed at amateurs as well as professionals, Smallformat presents new products, tips for better filming, tests, labs, film material, the history of camera brands, and a collector's marketplace. Editor-in-chief Juergen Lossau is also planning a German version of Directorama to be serialized in Smallformat's sister publication Schmalfilm, which has been around for a whopping 60 years! Super toll!
You really can't watch the Oscars without it: The Directorama mug!
No, I'm not kidding…
Good news for those of you who've always yearned for a Directorama calendar, T-shirt, mousepad, trucker hat, BBQ apron or sexy spaghetti tank top. Visit the brand new Cafe Press Directorama store and knock yourself out!